How to view an artist's events on external calendars
This article explains how to share an artist's events (i.e. the events in the System One calendar) with other people. This involves creating an iCalendar feed. iCalendar feeds push information about an artist's events to linked external calendars. This enables the wider team, such as promoters and managers, to view up-to-date information on their own calendars.
There are a few steps involved to share an artist's events externally, the main steps are:
Create an external user account for the person you're sharing the calendar with (skip this step if they already have one)

Create and modify a calendar template (to specify which information is shared)
Share the calendar feed with the user (so they can add the calendar to their devices)
We cover each step in more detail below.
Creating external user accounts
Before sharing an artist's calendar, the person you want to share with must have an account. If they don't already have an internal or external user account, we recommend creating them an external user account. Follow the below article Create an external user account.
Creating calendar templates
Next, we recommend creating a calendar template (if you haven't already). Calendar templates allow you to specify what information is shared by the calendar feed. We've written a support article on this Customize iCalendar content with iCalendar templates. (see below)
How to share an artist's calendar
1

Navigate to the artist's profile in the Company section and scroll down to the section iCalendar feeds and select New.

2

Assign the iCalendar feed to the user you created (or any other existing user). Hit Save. The user will then receive an email with instructions on how to subscribe to the feed.
Apply a calendar template to a user
To specify what this user can see, click on the link next to their name.

Then you'll see a range of options to limit what this person sees. Under Display, select the iCal template you created earlier.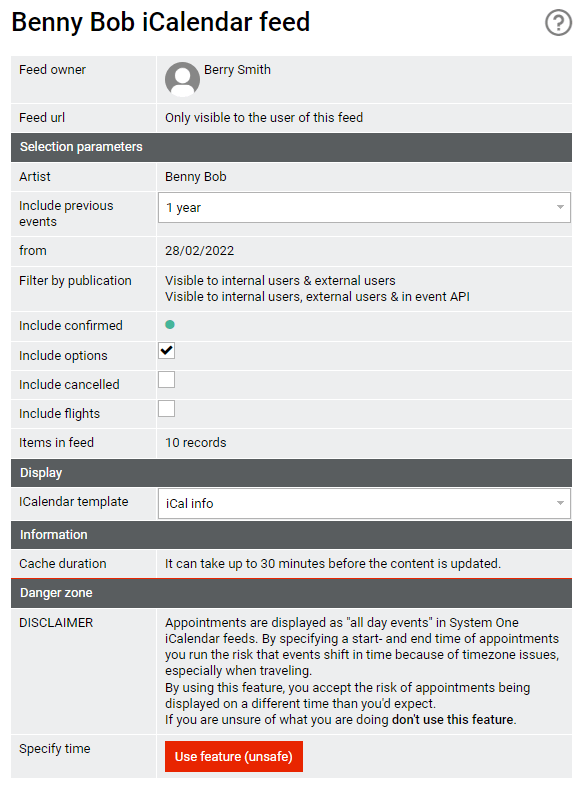 Related articles: