How to style artist riders
This article is only relevant for users that use the legacy workflow for sending contracts. This article is not applicable when you are already using our eSign feature.
Artist riders can be merged with a contract template. Contract and artist rider form one document when you export it.
You can access the artist riders via System settings > Template settings.
Characteristics
Only Word documents can be used as Artist riders. No other formats are supported.
The maximum file size is 2 Mb. If an artist rider exceeds this size, we recommend downsizing images.
Only one artist rider can be linked to a contract at a time. Separate files (like for instance technical and hospitality riders) should be merged into one file.
Styling
The artist rider will follow the styling that is used in the contract template. To ensure that your artist rider and contract template are consistent in lay-out and font usage, we recommend using the exact same styles in both documents.
A good practice is to use the contract template as a basis to start from and work with the styles that are defined in this contract template. To do this, you copy the contract template, save it under a different file name and adjust the content.
Header and footer
It is recommended not to use any headers or footers in the artist rider as the header and footer from the contract template are applied to the artist rider. Therefore it is recommended to remove all content from the header and/or footer of the artist rider.
Bullets and numbering
The use of bullet points and numbered lists is not handled in the artist rider and can lead to unexpected behavior in styling.
If you want to use a list with bullet points, you can insert a symbol and choose a bullet: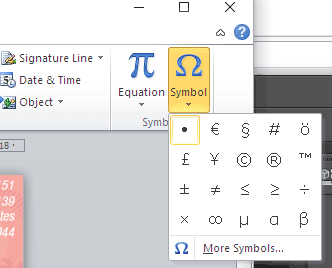 If you want to use a list with numbers, you can type the numbers in an ascending fashion with their content: